The media focused on the 2017 Kemet's strategic partner conference, which attracted widespread attention from all walks of life.
---
On December 5, 2016, the strategic partner conference of 2017 kemite company was held ceremoniously in linyi huasheng river spring city hotel. The meeting was large-scale, well-prepared, and perfect in details. The number of participants was as large as the previous meetings of Kemet. At the meeting, various strategic partners gathered together to explore the future development path. The meeting lasted three days and ended successfully.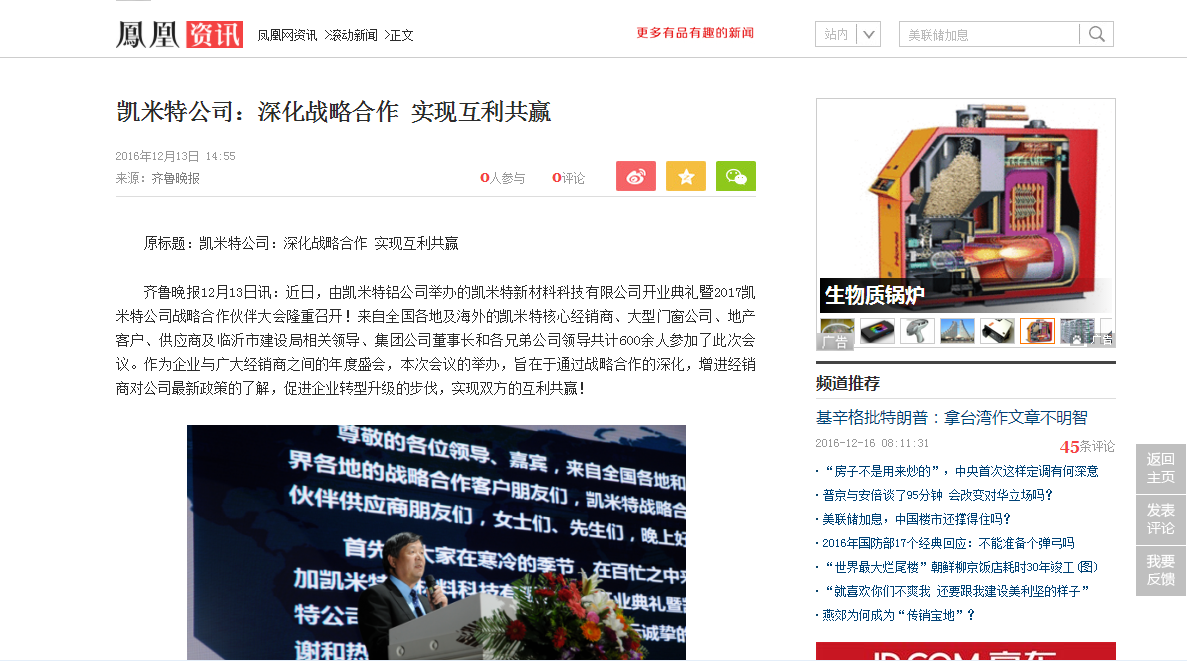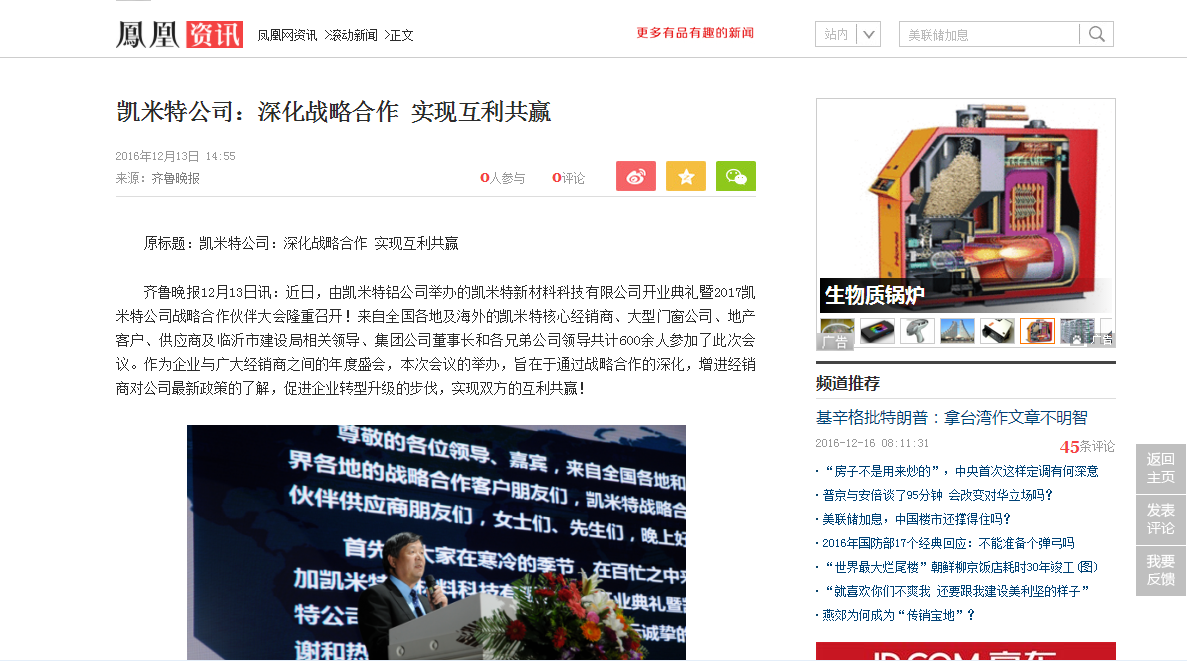 On December 5, 2016, the 2017 Kemet Company Strategic Partner Conference was solemnly held in Linyi Huasheng Jiangquan Hotel. The meeting was large-scale, well-prepared, and perfect in details. The number of participants was as large as the previous meetings of Kemet. At the meeting, various strategic partners gathered together to explore the future development path. The meeting lasted three days and ended successfully.
At the same time, Kemet, with its greater corporate influence and popularity, has been reported by Phoenix New Media, Global Network, China Construction News Network, Qilu Evening News and other media, and has attracted wide attention from all walks of life!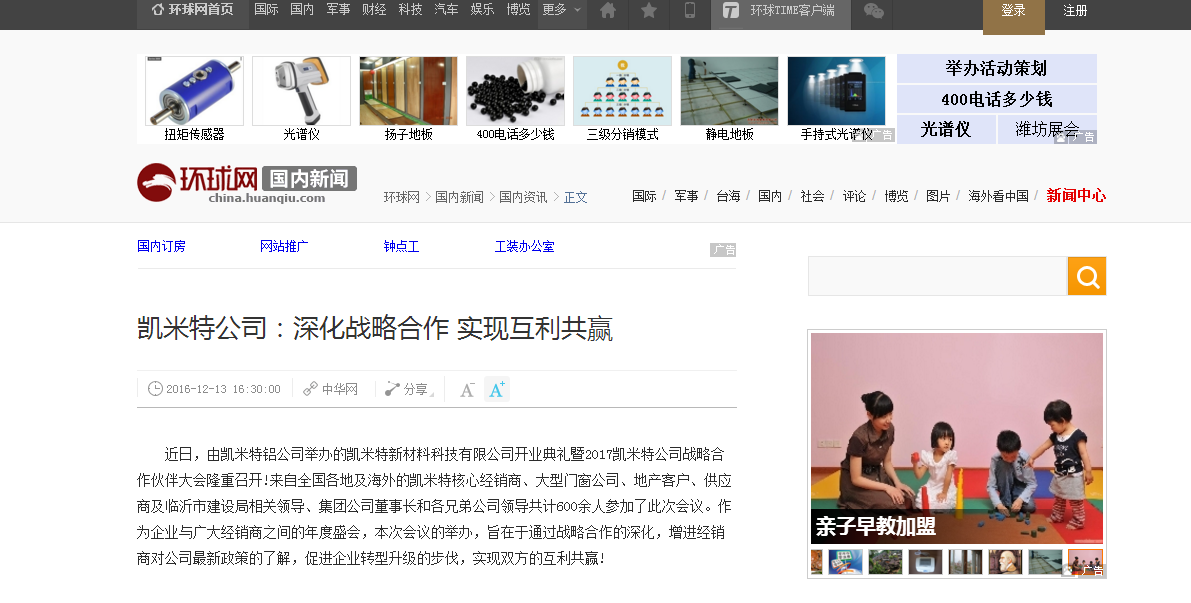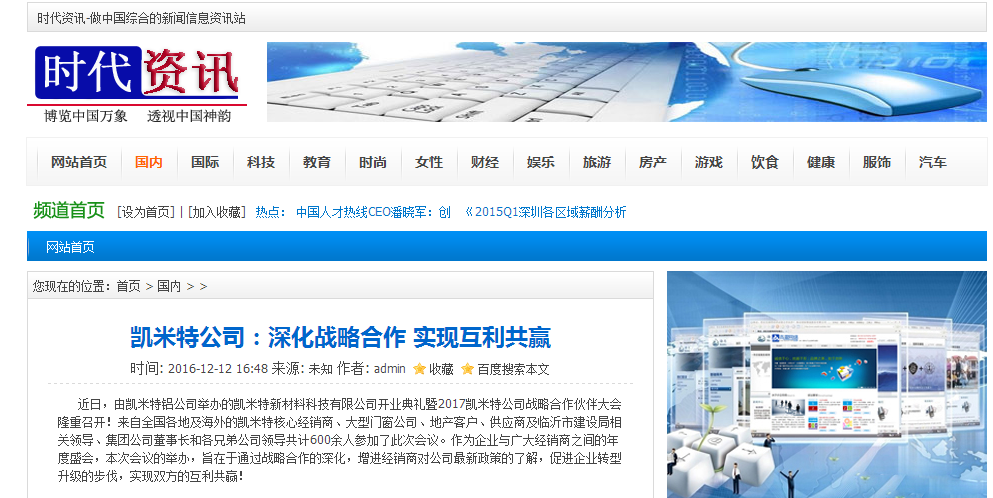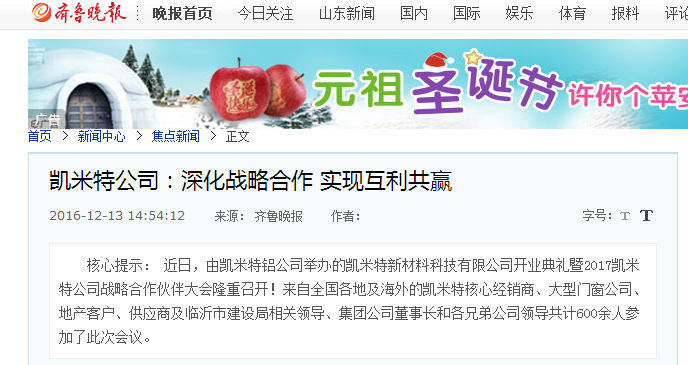 Recently, the opening ceremony of Kemet New Materials Technology Co., Ltd. and the 2017 Kemet Strategic Partner Conference organized by Kemet Aluminum Company were held ceremoniously! A total of more than 600 people from all over the country and overseas Kemet core distributors, large door and window companies, real estate customers, suppliers, relevant leaders of Linyi Construction Bureau, chairman of the group company and leaders of various brother companies attended the meeting. As an annual event between enterprises and dealers, the purpose of this conference is to enhance dealers' understanding of the company's latest policies through the deepening of strategic cooperation, promote the pace of enterprise transformation and upgrading, and achieve mutual benefit and win-win results for both sides! With the theme of "transformation, gathering potential, deep cultivation and win-win", the
conference passed several key links such as "kemite new material opening ceremony", "aluminum creation space product exhibition hall visit", "large-scale automatic production line visit", "appreciation dinner", "experience sharing", "summit forum", "expert lecture" and so on, let dealers fully understand the current production and operation status of the company and the implementation of strategic goals, and clarify the company's development plan for the next five years, so as to enhance the interaction and communication between the company and dealers, dealers and industry experts, dealers and dealers. Enhance the friendly and cooperative relationship between the two parties, and enhance the sense of belonging and development confidence of dealers.
Many enterprise development experience shows that it is difficult to achieve long-term development on its own. In recent years, with the continuous growth of development strength, Kemet has continuously deepened the implementation of the "manufacturer integration" policy, and strengthened resource sharing with partners by holding various activities and conferences and forums on various themes. Promote scientific development.
"Sharing Spirit" Makes an Excellent Team
Sharing Spirit means that Kemet Company regards distributors as partners, friends and family members. There is no estrangement between them. As long as it is for the healthy and sustainable development of the enterprise, all problems can be put on the table for public discussion and solution. This builds a broad and smooth bridge between Kemet and dealers, and also lays a good foundation for the sustainable development of both parties.
"Dealers are our family and our closest comrades in arms. In market development, Kemet works side by side with each dealer. In addition to the support policies provided by general enterprises, we will also arrange professional market personnel to help dealers to open up the market and train teams. As long as there is a problem in any link of the market, operation and product, dealers can contact us directly. We will try our best to share enterprise resources with dealers to solve the problem perfectly." Kemet's general manager, Qian Zong, said seriously.

According to Qian Zong, after the new distributor joins Kemet, the company will give full support in terms of products, publicity, market and operation. For example, in terms of products, Kemet Company will provide new dealers with a fixed period of priority supply. In terms of publicity, Kemet Company will help new dealers to make all-round plans such as store display, outdoor advertising, product brochure production, etc. In terms of market, Kemet Company not only regularly invites experts to give professional knowledge lectures and impart marketing experience to dealers, but also sends experienced marketing personnel from its headquarters to assist dealers in market development. In terms of operation, the company is based on the specific circumstances of the dealer, the corresponding support.
At this meeting, Ms. Jiao, the company's chief operating officer, also elaborated on the marketing strategy and brand promotion issues that customers are concerned about from four aspects: "transformation to seek development", "gathering potential to create advantages", "deep cultivation of strong brands" and "manufacturers seeking win-win results". She also said that in 2017, she would share better resources with you and give you more and better support policies, to fully assist dealers in market development.
"Innovation Consciousness" Seeks a Better Future
In Kemet's view, enterprises and distributors need not only "sharing spirit", but also "innovation consciousness". And innovation is not just the task of a certain department or a few people, it is a way of thinking throughout the entire enterprise. If enterprises want to seek rapid development and achieve mutual benefit and win-win results, they cannot do without joint innovation with employees and distributors.
As the executive director unit of "Shandong Construction Door and Window Industry Innovation Alliance", Kemet Company has been committed to improving people's aluminum-based energy-saving and environmentally friendly life since its establishment. In the development of new products and improve the technical level of doors and windows products, a considerable amount of manpower, material and financial resources have been invested, and remarkable results have been achieved. It is understood that at present, Kemet Company is an enterprise that produces surface treatment profiles in the north with very complete specifications. The Mikel door and window system launched by the company has successfully developed into a hot high-end door and window customization system in the market, which has won many developers and consumers. Favor.
Under the influence of the "innovation" atmosphere, all Kemet's employees have a sense of innovation. Regardless of any link of R & D, production or marketing, as long as they have new thinking and new ideas, they will actively express them, providing new ideas and new insights for product upgrades, channel development, and enterprise development. And Kemet's dealers are influenced by the innovative thinking and ideas of enterprises. "while the Kemet platform brings us rich resources, it also constantly enriches our vision and guides us to establish a sense of independent innovation through regular organization of exchanges and learning, experience sharing, expert lectures, and so on." A dealer from Shanxi said frankly. Under the influence of the innovative atmosphere of the headquarters, Kemet dealers often flexibly adjust their business model according to the feedback of market consumers, convey their ideas on products to the headquarters in a timely manner, subvert traditional publicity and promotion ideas for strategic innovation, and so on. They actively participate in Kemet brand building and put full enthusiasm and confidence into development. On the site of the
conference, Mr. Ou Qunlin, executive deputy general manager of the company and member of the expert committee of China Aluminum Processing Industry Association, gave a special report on "new technology, new product and 2017 technology and product research and development direction of Kermit Company". Ou General Manager showed the company's current advanced technology and equipment, new surface treatment products and 2016 several new products of Mikel system, and analyzed the future product research and development direction of Kermit Aluminum Company, once again aroused the strong interest of dealers and customers, and everyone said that they would more actively participate in the research and development and marketing of Kemet products in the future.
The "sharing spirit" of Kemet Aluminum brings dealers a strong sense of belonging and sufficient profit space, so that both parties always maintain the same values, concepts, and goals, and strive to sprint on the "united front"; At the same time, the "innovative consciousness" possessed by Kemet dealers strongly promotes the pace of enterprise transformation and upgrading. The convening of this strategic partner conference is not only the collision of thinking between enterprises and dealers, the deepening of cooperation, but also the sublimation of "sharing spirit" and "innovation consciousness! Under the joint deep cultivation of both sides, I believe that Kemet's future will be bright and smooth!
---
Copyright©2023 Kemet New Materials Technology Co., Ltd. All Rights Reserved